I. B. Remsen, Potter - Special Order Items - Page 3
These pieces are made to order, and are available in four to six weeks.
Click on the pictures below to see larger pictures, along with descriptions and ordering information.

Note: pictures are not to scale.
Page 1 - Page 2 - Page 3 - Page 4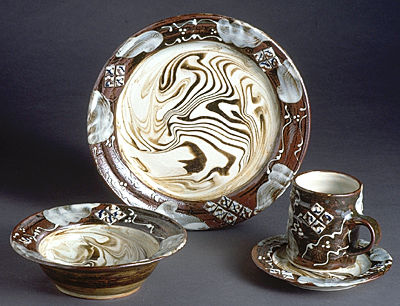 Iron Mountain Place setting
Place setting in Iron Mountain with Marbling and color chips. This place setting is hand thrown in porcelan. The center is marbled with iron slip. The rims are covered in iron slip and decorated with brushwork in white slip. Then tiny feather trailed chips are pressed into the surface. Finally, the whole piece is glazed in a very subtle celadon glaze. The dinner plate is 10" wide. These pieces will go well with any serving piece is regular Iron Mountain.
$200.00
---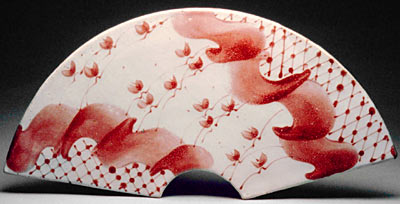 Large Fan Tile
This piece is 16" by 9". It is made of porcelan and finished in a white glaze with a copper red overglaze. It is ribbed on the back and these ribs are pierced for a hanging wire.
$225.00
---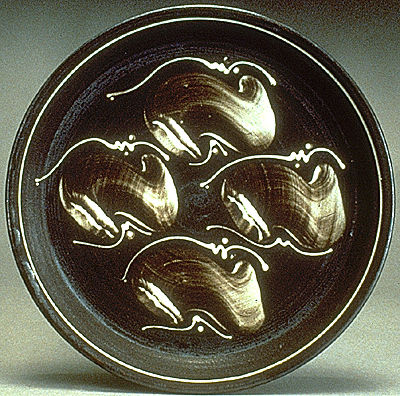 Dark Waves Platter
14" wide. This is a very matte with an incredibaly dark background color created with a slip containing a large percentage of Manganese Dioxide. The decoration is in white slip and no glaze is applied. It has a surface quality of volcanic rock, rough but slightly melted.
$150.00
---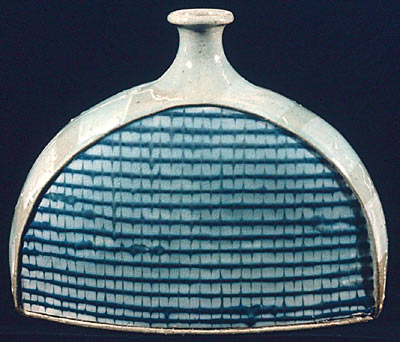 Northern Lights Vase
This piece is hand-built in white stoneware. The side panels have been trailed with slip and then feathered. The end panels are decorated with white brushwork. The whole piece is glazed in a very light celadon. It is 16" wide, 15" tall and 8" deep.
$1000.00
---
<<
Go to Page 2
-
Go to Page 4
>>