I. B. Remsen, Potter - Commissions - Page 2
These pieces are examples of commissioned works. If you would like a custom-designed piece for your group or event, please contact I.B. Remsen (rempot@ibremsen-potter.com).
Page 1 - Page 2 -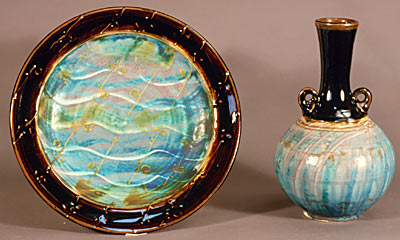 One-of-a-kind commissions:
Above-Porcelain Platter 13" Diameter. Vase, Porcelain These last two images are of pieces that were especially created as gifts to valued employees of a large corporation. The design for these pieces was developed in consultation with the representatives of the organization from different examples of my work. The prices are comparable to similar work found in the special order section of this web page.

Below - Large Serving Platter with Handles 19" Diameter.